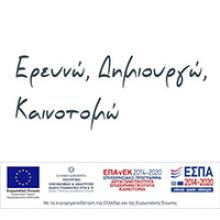 Περιγραφή έργου:
DOTSOFT SA participates at the implementation of new research projects under the framework "RESEARCH – CREATE – INNOVATE" of the Operational Programme "Competitiveness Entrepreneurship Innovation" (EPAnEK 2014-2020), Partnership Agreement 2014-2020.
The project is co-funded by the European Union and the European Regional Development Fund.
Cooperation between:
Atmospheric Environment Monitoring and Predicting research services – Interdisciplinary Research and Innovation Center / Aristotle University of Thessaloniki
Environmental Chemical processes, Chemistry Department / University of Crete
GEOSPATIAL ENABLING TECHNOLOGIES
DOTSOFT S.A.
The project aims at a versatile and flexible air quality monitoring and forecasting system that will include: (a) infrastructures (low cost AP sensors), (b) application of sophisticated models, (c) service delivery as SaaS (Software as a Service) or PaaS (Platform as a Service) and (d) provision of environmental information. The air quality monitoring and forecasting system to be developed will be able to provide primary information (concentrations of pollutants regulated by law) and air quality indicators. The forecasts provided will be based on its results
of the model system as well as in the current AP state, as will result from the fusion of the microsensor network measurements and the (local) model results.
The KASTOM system will be implemented in two pilot areas, Thessaloniki and Heraklion. Thessaloniki is the second largest city in Greece with significant air quality problems due mainly to high concentrations of suspended particulates. Heraklion is the fourth largest urban area of ​​Greece and was chosen because it belongs to another geographical area and climate zone of Greece, with different effects on air quality (including large-scale pollutants that in many cases originate in natural, e.g., dust from the Sahara). The system will cover both the city of Heraklion and the neighboring region of Hersonissos, which is the largest tourist resort in Crete (almost 10,000,000 overnight stays per year).
The KASTOM system to be developed will provide air quality information to five categories of users: (a) the public, with a focus on vulnerable populations (patients with respiratory problems, athletes, children and the elderly), (b) public services responsible for air quality management, (c) the scientific community, (d) the medical community, and (e) private companies providing air quality services.
The applications that will be developed will provide primary and processed information according to the needs and level of users to which they will be targeted.
The above is provided through an appropriate information platform and software services that support online dissemination of environmental information (interactive maps of current and projected air quality), dissemination through smartphones, and provision of open standards data to third parties.